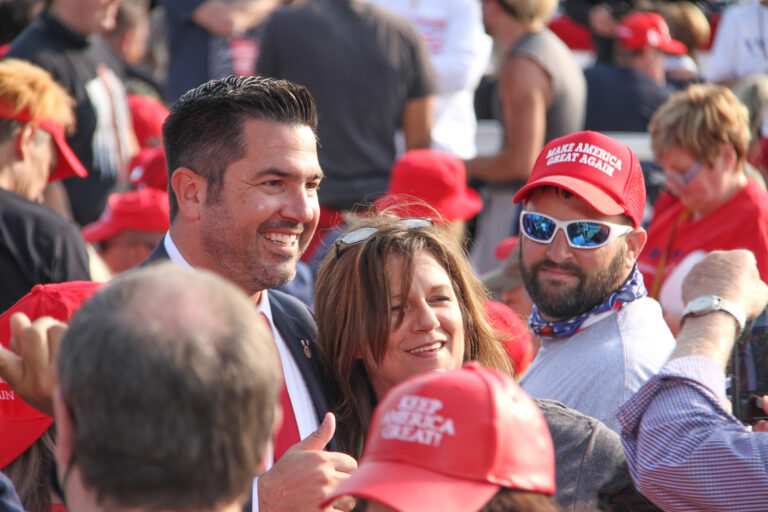 Sean Parnell has officially declared his candidacy to represent Pennsylvania in the U.S. Senate.
Parnell, a Republican, is a former Army platoon leader, veterans charity founder and published author who resides in Ohio Township.
On Tuesday, he joined a growing field of candidates vying for the seat held by Sen. Pat Toomey, R-Lehigh Valley. Toomey has said he will retire when his term expires in 2022.
"Together, we are going to win in 2022," Parnell said to nearly 200 cheering people gathered in an outdoor area of Cadence Clubhouse Cafe and Taproom in McCandless, about 12 miles north of Pittsburgh. "We are going to win Pennsylvania, and we are going to save America."
The Senate bid follows Parnell's unsuccessful challenge against Democratic U.S. Rep. Conor Lamb last year.
Parnell had spent weeks saying he was considering a run. On Tuesday, he updated his social media accounts with a campaign logo for Senate ahead of his announcement.
Parnell, who moved last year from Cranberry to Ohio Township, was a regular guest on Fox News programs who became a favorite of former President Trump.
During a Sept. 22 rally outside Pittsburgh International Airport in Moon Township, Trump called Parnell onto the stage, and Parnell arrived to a standing ovation and spoke briefly. Parnell introduced former Vice President Mike Pence during his campaign rally in Beaver County in October.
In McCandless, pro-Trump and "Make America Great Again" hats and other apparel could be seen among the crowd, which periodically broke out in chants of "U.S.A, U.S.A."
The audience booed when Parnell mentioned President Biden, Conor Lamb, the border and the energy industry.
They clapped when he spoke of protecting the right to bear arms and what he learned from guiding troops under attack in Afghanistan.
Parnell has emphasized how his military experience taught him how to lead and work with diverse groups of people. His top priorities have included strengthening the military, creating jobs through deregulation and driving down health care costs through increased competition.
As a Army combat survivor with his own preexisting conditions and family who've battled cancer, Parnell has said that he supports legislation that "would preserve the more popular aspects of the Affordable Care Act, like letting someone stay on their parents' insurance plans until they're 26 and always protecting people with preexisting conditions."
Parnell's tone Tuesday night marked a departure from his appeals to moderates and bipartisanship during the weeks leading up to the November election.
He painted a grim picture of America's future with Democrats in charge.
"It is our duty and our responsibility in 2022 to stop them," Parnell told supporters.
In the congressional race, Parnell showed his mettle in fundraising, raising nearly $4 million before he lost narrowly to Lamb.
Parnell later joined a post-election lawsuit in an attempt to overturn Democrat Joe Biden's victory in Pennsylvania's presidential election.
The Senate seat in the presidential battleground state is being left open after two-term senator Toomey announced in October that he would not run again.
Both the Democratic and Republican fields are getting crowded, with a year to go until next year's primary.
Rounding out the field of declared GOP candidates in the race so far: Jeff Bartos, a Lower Merion real estate developer and former candidate for lieutenant governor; Sean Gale, an attorney of Montgomery County; Kathy Barnette, a military veteran and political commentator and nominee of Montgomery County; and Everett Stern, a Chester County resident and former candidate for U.S. Senate in 2016.
U.S. Reps. Mike Kelly, R-Butler, and Guy Reschenthaler, R-Peters, are among several others who have publicly expressed interest in running but have not declared.
In the Democratic primary, candidates include Lt. Gov. John Fetterman of Braddock; state Sen. Sharif Street of Philadelphia; state rep. Malcolm Kenyatta of Philadelphia; Val Arkoosh, a physician who chairs the Montgomery County Board of Commissioners; Kevin Baumlin, chief of emergency and urgent care and Pennsylvania Hospital; Brandaun Dean, former mayor of Brighton, Alab.; Jenkintown Borough Council Member Alexandria Khalil; and John McGuigan, former president of Norristown Municipal Council.
___
(c) 2021 The Tribune-Review
Distributed by Tribune Content Agency, LLC.